davidl on December 28th, 2009
Well you can't rush a good thing.   Instead of making an impromptu speech, the nation's orator in chief waited three day to give this speech that may well  rival the Gettysburg address, video: I can just see the Islamists plunging over the cliff as the one speaks. Oh by the way, nice tie Barry. Hat […]
Eric Florack on December 28th, 2009
Welcome, one and all, to the most intense nightly read anywhere on the web…. The BitsBlog Nightly Ramble BACKTRACKING ALA NAPLITANO:I see Janet Napolitano has spent most of today backtracking, and admitting exactly what I said as an addendum to David's post of yesterday … that the system did NOT work. The Heretige Foundation gives […]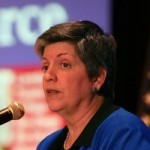 Not in my wildest dreams would I believe that a US official could be so stupid as to say something like this in the face of unrelenting facts.
And intriguing enough is that it happened on CNN, whose reporting tends to be as supportive of the Obama administration as possible.
Of course, this is coming from the leader of the same department that earlier this year targeted "right-wing extremists" as high-risk for recruiting new members and conducting terrorist activities.
About the only spin one could put on this is that "…the system worked, but it's broke". That perspective behind a statement like this is part of the problem. Saying that everything worked like it's supposed to but it's not supposed to work that way just leaves one wondering how much thought is going into the design of the process that is supposed to be protecting our country.
Clearly the system is broke. To think that someone who has been identified as a terrorist risk like Umar Farouk Abdulmutallab could be allowed onto a passenger jet without careful screening is just insane… and there are 500,000 people on the list he was placed on a month ago! As I shared in my piece at the Des Moines Register yesterday, the entire focus […]