davidl on December 22nd, 2014
Snark of the Day from Kate, Small Dead Animals: #AlSharpton is the Fred Phelps of the Democratic Party. Which is quite an accomplishment, considering Fred Phelps was also a Democrat. OF course, the Reverend Phelps was not employed by minor media network and serve as a white house adviser    Then the Reverend Phelps specialized in […]
Continue reading about Snark of the Day: Kate (Small Dead Animals)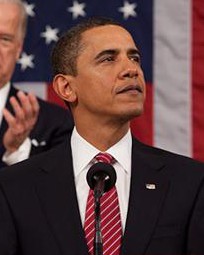 As we end the President's first year in office, we still struggle with folks on the left complaining bitterly that those of us who share a conservative ilk are out to see Obama fail. Never mind the fact that all I seem to hear during a Republican administration is a cacophony of angry vitriol, outright lies and attempts by Congress to undermine the critical work of the President, and I'll accept the fact that there are many on the right who see nothing but red when they discuss the current resident of the White House. But my goal is strictly to see America — Americans — be successful, and that means that I want to see the President be successful as well.
But the President\'s speech tonight leaves me wondering. There\'s no doubt it brought a sense of euphoria to those in need, to those who continue to promote a liberal agenda. The beginning and end of the speech brought a broad stroke of hope and confidence in who we are as a nation, as any good presidential speech should.
He made some good proposals. Some of which will make Congress uncomfortable to consider. Some of which will be hard to execute. Earmark transparency. Budget freezes. Cutting programs.
He made some popular proposals. Jobs programs. Small Business Lending programs and tax credits. Tax credits on capital investments. Bank investment reforms. Additional taxation of large banks.
And he continued to press for Health Care Reform that Americans don\'t want.
I will likely disagree with much of the spending […]
Continue reading about Obama\'s State Of The Union Promise: Can He Cut Programs?
Tonight
Art will be a featured guest at the Des Moines Register's web site tonight during the President's speech in an online chat. You can join us at this link starting at 7:45 PM.
Well, friends, tonight could well be one of the most anticipated State Of The Union Addresses in many years. In a period of disappointment following the grand illusion of hope put forth by the President and Congressional Democrats, tonight's speech may well a pivotal driver to the 2010 Congressional Elections.
Health Care
Look for President Obama to sound confident and yet cautious on this topic. He may well fire barbs at the Republicans in Congress, but the fact is that House and Senate Democrats had the ability to make this happen months ago if they had the intestinal fortitude to put personal pride, personal gain and "pet ideas" aside and come to a consensus on what most of us would agree is a critical issue in America. But the President won't point any of that out.
The Economy
There will be more demands to poor money into the hands of businesses and citizens… unfortunately it will likely be more of the same non-stimulating "stimulus" money, feeding […]