davidl on January 10th, 2012
From Dan Murphy, Christian Science Monitor: Though tensions have continued to rise, with Iran sentencing Iranian-American Amir Mirzaei Hekmati to death yesterday for allegedly spying (his family says he returned to Iran to visit his grandmother) and new US sanctions on Iran's central bank, two peaceful opportunities to underscore the US naval reach in the […]
Continue reading about Iran Kidnaps Another American Tourist.
Justin Arnold on August 2nd, 2010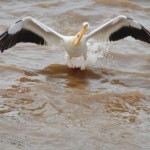 As the BP oil spill unfolds in the Gulf and in our living rooms through our television screens, the coverage has focused on two major problems that it has created. One is the flat-out brutal images of oil soaked pelicans; the other is the crisis of the Gulf fishermen who have been forced out of work. One thing is clear, if you had to choose between being a pelican or a fish your choice is an easy one. At the same time everyone is rightfully heartbroken about the pelicans, we can\'t wait for the fishermen to get back in the water and cast their nets to catch and kill as many fish as possible. While I am not by any stretch a PETA guy and I grant the fact that this is largely because we don\'t eat pelicans, the point it makes is that we constantly draw large subliminal differences between things. In this case, though both are "wildlife," we subconsciously dismiss the plight of the fish while granting a level of sympathy to the pelicans that compels some of us to set about capturing them and hand rubbing them with Dawn dish detergent. The same point could be made by asking the questions: Why do we eat turkeys and chickens but not pelicans; why cows and not horses? Why are mice disgusting but gerbils and hamsters cute? In large part the answer is: that\'s just the way it is.
I suppose you might be asking yourself a question right about now—how does this relate to politics? While I\'m quite certain that indeed everything relates to politics, the specific answer is the power of the mentally presumed. The United States is now and has always been a relatively conservative country. Our Constitution, laws, and values, as well as every poll ever taken on the subject, prove this. The problem for Liberals is that well . . . they are not. This presents a huge political task for them. In order to get the […]